Ritchie's 18th Birthday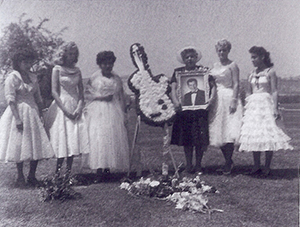 On the first anniversary of Ritchie's death, Ritchie's mother wanted to honor his memory. Pictured from left to right: Olga Jurado-Zubick, Ritchie's cousin; Gail Smith, Ritchie's classmate and president of the Ritchie Valens Memorial Fan Club; Paulina Lozano, sister of Ritchie's aunt Ernestine; Ritchie's mother Connie, better known a "Concha"; Donna Ludwig-Fox; and unknown young woman. Photo taken in May, 1959 at the San Fernando Mission Cemetery, Mission Hills, California.
Winter Dance Party Concert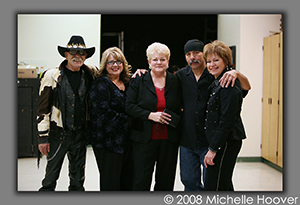 The Winter Dance Party Concert at the Henry J. Mellow Center, Watsonville, CA. Photo taken backstage with Donna and the family of Ritchie Valens. Pictured from left to right: Bob Morales, Irma Norton, "Donna" Fox, Mario Ramirez and Connie Valens.
Donna shares her memories of Ritchie
Ritchie was my first true love and my first experience losing someone I loved. Ritchie was a truly good guy; kind and polite. He liked to dress well and always look good. I still remember his aftershave, "Old Spice." Ritchie spoke often about his family. He wanted to buy his mom a home. Ritchie's mom and I grew close. She made me feel like family and she taught me how to cook Ritchie's favorite foods: tamales, menudo and enchiladas. Ritchie's family has influenced me and my family by showing me that with the love and support of family nothing is too difficult. They are a blessing to me and my family.
Donna was a great comfort to Ritchie's mom and sisters after Ritchie's death. Donna has attended the Winter Dance Party Concert for the last several years as a special guest. Her graciousness to Ritchie's fans and support of Ritchie's family continues to show the bond that was created almost sixty years ago.
The Ritchie Valens family would like to acknowledge Alan Clark (The Alan Clark Archives), Donna Fox, Judy Willis and Michelle Hoover (Photographer) for their contribution to this page.