Welcome
This is the only site authorized and developed by Ritchie's family, Bob, Connie, Irma and Mario. Take your time, there is a lot of great photos and memories we want to share with you. We hope you will enjoy your visit with us and come back often.
Articles of the Month
News from The Family
Winter Dance Party 2018
What's up with Mario
The Ritchie Valens Foundation
Ritchie Valens Memorabilia On Loan
Original Ritchie
There's Music at Three Star Plaza
Ritchie Valens' Soy Capitan™ Cola

Original Ritchie
Original Ritchie, the Ritchie Valens Store, opened May of 2006. Please click on to Original Ritchie for a visit. We hope you will love what you find there "Our Best Sellers" the music "CD"S" and the T-shirts. The Family would like to thank all of customers both here in the USA , Australia, and the United Kingdom we are not only National but International.
For the best selection in Ritchie Valens CD's just click on "Music" once in Original Ritchie.
Ritchie Valens' Soy Capitan™ Cola
C3 Entertainment, Inc. is excited to announce a license with Rocket Fizz Soda Pop and Candy Shops to produce a Ritchie Valens soft drink called Soy CapitanTM Cola for sale in all Rocket Fizz stores and other select outlets.
In stores now, you can enjoy a bottle of Ritchie Valens' Soy Capitan™ Cola around the country in 28 states and over 120 locations. The bottle features classic imagery of Ritchie Valens with one of his electric guitars.
According to the Valens family, cola was Ritchie's favorite soft drink flavor. He could often be found sipping a cola with friends at the popular Southern California diner, Bob's Big Boy. Read more.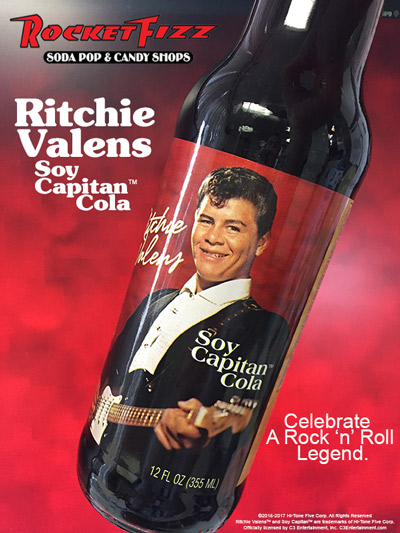 For Licensing, Merchandising and Advertising Contact:
Ani Khachoian
Executive Vice President of Licensing, Merchandising and Distribution
C3 Entertainment, Inc.
1415 Gardena Avenue
Glendale, CA 91204
Email - Phone: (818) 956-1337 ext. 215
What's up with The Family
Happy Birthday Ritchie!
Ritchie's Birthday, May 13th.
Please visit Ritchie's Facebook page, "The Ritchie Valens" for the latest on what's new! Lots fun cool videos and posts.
Unfortunately the family is not planning any events to celebrate Ritchie's Birthday this year in the Pacoima or San Fernando community's, due to the lack of community support of last year's event. At the same time we'd like to thank those fans who did come out to support and celebrate with us.
Winter Dance Party 2018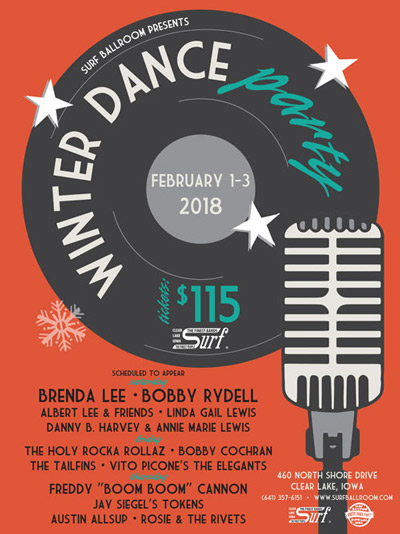 The Ritchie Valens Family Luncheon was a great success, Ritchie Lee and the Fabulous Fifties Band performed before a sold out crowd. Our good friend Ken Haskins the Rock'n Rev, all the way from Carson City NV, was fantastic as our MC.
The Family would like to thank our friends who came in to help us set up and clean up, our special guest's Austin Allsup and the Tommy Allsup Family, The Holy Rocka Rollaz, Barbra Dywer. And our all Midwest family who came out to support us and to honor Ritchie's Legacy & Music.
There's Music at Three Star Plaza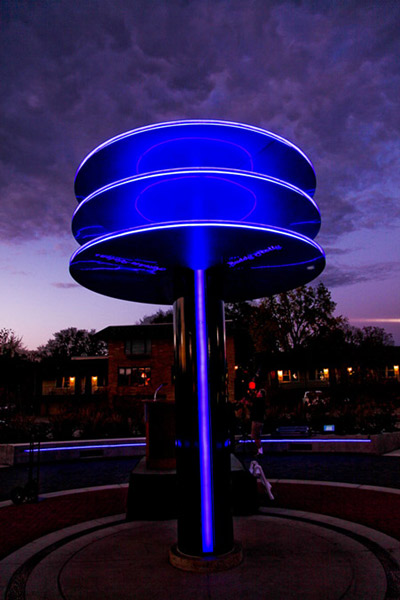 The interactive music and short bios for Ritchie Valens, Buddy Holly and The Big Bopper is complete. It was up and available for fans to enjoy the first weekend of August 2017. It is the newest addition to Three Star Plaza.
Imagine our excitement and that of all of the fans that contributed to this project, special thank you the Clear Lake Chamber of Commerce and the Surf Ballroom.
What's up with Mario
Mario and the Backyard Blues Band.
The Ritchie Valens Foundation
We have decided to postpone the filing of our non-profit status, while we do some reorganization.
It is important to the family, that we continue to perpetuate Ritchie's legacy, and stay involved in producing and promoting events, in using Ritchie's name, and through the use of his name or that of our Corporation Hi-Tone Five.