Original Ritchie, the Ritchie Valens Store, opened May of 2006. Please click on to Original Ritchie for a visit.

We have made some changes to Original Ritchie the Ritchie Valens store, Paypal has been added for convenient and secure shopping.
Available is the best in Ritchie Valens music on CD . We have temporarily removed our apparel line, we are hoping to present a new line this spring. Thanks go out to Ritchie's fans.
2016 Ritchie Valens T-Shirt
Introducing our new 2016 T-Shirt, this is one of our favorite designs, the turquoise on black make for a dramatic presentation and the black and white photo of a young Ritchie Valens makes it very personal.



Just click below to order The 2016 T-shirt on Original Ritchie the Ritchie Valens Store.
Donna's Scrapbook live.
The Ritchie Valens Family gratefully acknowledges Donna's contributions to this page. All information and photo's authorized by Donna Fox. All photo's used with permission, Donna Fox, Alan Clark (Alan Clark Archives), Judy Willis and Michelle Hoover (www.michellehoover.com) also we would like to acknowledge Pascale our webmaster here at Ritchie Valens.com for her effort and dedication to our site.


Winter Dance Party 2017
Please join us for this years WDP, it really is a Rock N' Roll Family Reunion.
The Family will once again act as ambassadors, on behalf of Ritchie. It gives them great pleasure to welcome back all the fans, they enjoy the meet and greets and photo opportunities, alongside their responsibilities which include being present at the different events, they'll be judging the art contest K-5 and attending The Rockin' Kids Show, where they share encouraging words and interact with the students. For ticket information please visit www.surfballroom.com, and click on Winter Dance Party.
Legend Lost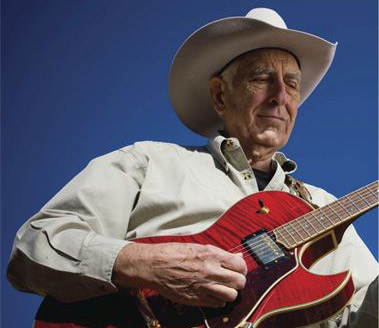 It is with heavy hearts that we learned of Tommy Allsups passing. Over the years a strong bond was formed between Ritchie's sibling's and Tommy. With Mario it was through music, Tommy invited Mario to share the stage with him at the WDP concerts, they recieved standing ovations, Tommy once told Mario that, "They were the Real Deal " with Bob, Connie & Irma, it was an emotional and sentimental bond. On February 2,1959 Ritchie, asked Tommy over and over let me fly, Tommy finally said okay , I'll flip you for it. That coin toss gave Tommy another 58 years, he continued to play the music he loved and lived his life to the fullest. Tommy's presence at the WDP was a highlight. The fans both loved and respected Tommy, he was a gracious, kind and when he smiled he lit up the room.

05/12/2016 - Press Release
Gone but not forgotten is the best explanation for the actions of a city on the West Coast, 57 years since the passing of its hometown hero Ritchie Valens. A proclamation by the City of Los Angeles, California, honoring the life and music of Ritchie Valens on his 75th birthday was issued on Friday, May 13 proclaiming it Ritchie Valens Day in the City of Angeles. Ritchie's sister, Connie Valens-Anderson of Spirit Lake, says the family is touched by the events taking place in Los Angeles.
Ritchie Valens, had he not perished in a plane crash near Clear Lake on Feb. 3, 1959, would have celebrated his birthday with his family and friends. He was born Richard Steven Valenzuela in Los Angeles, California on May 13, 1941. His death, alongside Buddy Holly, JP "The Big Bopper" Richardson and pilot Roger Peterson, made news around the world.
At the age of 17, he was writing and performing his own music. Valens wrote 22 of the 33 songs he recorded. He has one the few doubled sided hits, with "Donna" and "La Bamba."
In 1987 the motion picture of Ritchie's life "La Bamba" was released, introducing the young star's music to new generations of fans.
Posthumously Ritchie Valens has received a star on The Hollywood Walk of Fame, United States Postage Stamp, was inducted into the Rock & Roll Hall of Fame at Cleveland Ohio, Iowa Rock & Roll Hall of Fame and the Rock A Billy Hall of Fame. Ritchie was also inducted into NAMA Native American Music Association. Ritchie's mother was a descendant of the Maya & Quaqui tribes. She made an appearance in the movie and was pleased with the final product. "Mama" passed away shortly after the movie hit the theaters around the United States.
Joining Valens-Anderson in expressing their appreciation to fans both here in the United States and around the world for perpetuating Ritchie's musical legacy are his brothers Bob Morales and Mario Ramirez in California and Irma Norton of Las Vegas, Nevada.
"Everyone is so special to us for remembering our brother," Valens-Anderson said. "Especially here in Iowa they honor Ritchie every year at the Surf Ballroom in Clear Lake and at many events around the state. We are grateful for the welcoming warmth we feel here in the state where tragedy struck for us many years ago."
The Valens family continues to gather in Iowa once or twice a year. They are honored by the event taking place in Los Angeles and touched that so many people continue to remember their beloved brother.


Mario and the Backyard Blues Band have a new CD. They have recorded Ritchie's "That's my Little Susie" along with new Backyard originals. For more info on the new CD & performance schedule go to www.backyardblues.com.
Ritchie Valens Memorabilia Items on Loan
Most fans don't know that many of Ritchie's personal belonging were taken from our Mothers home right after Ritchie's death, some of those items have been sold at auction, and others are held captive. Fortunately the family has recovered a few items, through the generosity of those who had them, once they discovered their true origin.

We are proud to announce that most of these items are housed in Museums across the country. At The Grammy Museum in Los Angeles you can visit Ritchie's Harmony Guitar the one he painted green in wood-shop at San Fernando High, along with other items.The Rock and Roll Hall of Fame and Museum in Cleveland Ohio, has Ritchie's performance outfit the Blue Satin Shirt Rhinestone Studded Pant and Vest and Roller Skates. The Surf Ballroom and Museum in Clear Lake Iowa has the Bow Tie Ritchie wore in his first professional portrait, the Wallet that he was carrying at the time of the crash, along with family photos. We hope that in your travels you will stop and visit these famous sites.

Three Star Plaza Fundraiser
Imagine walking unto Three Star Plaza and being able to select from the interactive podium, your favorite Ritchie Valens, Big Bopper or Buddy Holly song. Please help with with your donation to bring the music to Three Star Plaza, no amount to large or small... no amount too large or small...
Send your check with the memo Three Star Plaza Fundraiser. For address and phone number check the The Surf Ballroom The Surf Ballroom is a non-profit, so your donation is tax deductible. Thank you for your support.